e-TechServices is committed to its clients' success and understands the need for technology to drive business processes and pave the way for future growth and revenue. In order to help bring the most innovative solutions and designs to your organization, we work with a number of world-class partners to make sure you have the best technology to fit your needs.
As a former IBM Premier Business Partner and current Gold Partner, we have the experience and certifications necessary to operate at one of the highest levels of IBM partnership – which means our clients benefit from vast resources of technology and support.
Our partnerships are key to our proven history of innovation and development for clients.
IBM
IBM is a globally integrated technology and consulting company headquartered in Armonk, New York. With operations in more than 170 countries, IBM attracts and retains some of the world's most talented people to help solve problems and provide an edge for businesses, governments and non-profits.
Innovation is at the core of IBM's strategy. The company develops and sells software and systems hardware and a broad range of infrastructure, cloud and consulting services.
Today, IBM is focused on four growth initiatives – business analytics, cloud computing, growth markets and Smarter Planet. IBMers are working with customers around the world to apply the company's business consulting, technology and R&D expertise to build systems that enable dynamic and efficient organizations, better transportation, safer food, cleaner water and healthier populations.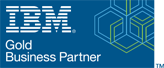 Actifio
Actifio helps hundreds of global enterprise customers and service provider partners in more than 30 countries around the world virtualize their data, just as they virtualized their servers and networks.
Actifio replaces siloed data management applications with a radically simple, application-centric, SLA-driven approach that lets customers capture data from production applications, manage it more economically, and use it when and where they need. The result is enterprise data available for any use, anytime, anywhere, for less.

CenturyLink
CenturyLink is a global communications, hosting, cloud and IT services company enabling millions of customers to transform their businesses and their lives through innovative technology solutions. CenturyLink offers network and data systems management, Big Data analytics and IT consulting, and operates more than 55 data centers in North America, Europe and Asia. The company provides broadband, voice, video, data and managed services over a robust 250,000-route-mile U.S. fiber network and a 300,000-route-mile international transport network.

VMware
VMware, a global leader in cloud infrastructure and business mobility, accelerates our customers' digital transformation journey by enabling enterprises to master a software-defined approach to business and IT. With VMware solutions, organizations are improving business agility by modernizing data centers, driving innovation with modern data and apps, creating exceptional experiences by mobilizing everything, and safeguarding customer trust with a defense-in-depth approach to cybersecurity. VMware is a member of the Dell Technologies family of businesses.

Lenovo
Lenovo is one of the world's leading personal technology companies, producing innovative PCs and mobile internet devices. Now, #286 on fortune 500 list, Lenovo is the world's largest PC vendor and fourth largest smartphone company. On September 29, 2014, Lenovo announced that all regulatory conditions for its acquisition of IBM's x86 server business have been satisfied and the anticipated closing will be effective on October 1, instantly making the company the #3 provider of x86-based server hardware, software and services.

Red Hat
Red Hat is the world's leading provider of open source solutions, using a community-powered approach to provide reliable and high-performing cloud, virtualization, storage, Linux, and middleware technologies.
More than two decades ago, Red Hat® had a spark of an idea—a vision for developing better software. Today, Red Hat is at the forefront of open source software development for enterprise IT, with a broad portfolio of products and services for commercial markets.
Trend Micro
Companies and individuals have put their trust in Trend Micro for more than two decades. Trend Micro is a recognized market leader in server, cloud, and small business security. With a team of more than 1,200 security experts around the world, Trend Micro delivers top-ranked client-server, network, and cloud-based protection. It is a leader in endpoint security, cloud security, and server security, and highly recommended for Breach Detection and Intrusion Prevention Systems. The company has the most advanced threat intelligence network in the world – the Trend Micro™ Smart Protection Network™, is continually enhanced by big data analytics and machine learning, and is bolstered by hundreds of Trend Micro security experts and the Zero Day Initiative (ZDI).